When Senior NSW Police Detective Chief Inspector Peter Fox told the ABC's Lateline programme on November 8, 2012, that the Catholic Church had covered up crimes by paedophile priests, silenced investigations and destroyed crucial evidence to avoid prosecution, the public outrage that ensued triggered a Royal Commission into institutional child abuse. A case of Church interference Fox outlined was that of Patricia Feenan's son, Daniel who was a fourteen-year-old altar boy when he was first raped by a priest in the Newcastle-Maitland diocese. One of the many shocking aspects of the case was how the priest, a close family friend, set about secretly grooming his altar boy victim. The priest was later found guilty of nine charges of sexual abuse of a minor in a public criminal trial in 2004. Patricia writes with raw honesty about her son's terrible ordeal, and it's effects on her family. She bravely reveals the scars that linger from the callous and often cruel ostracism they endured, as well as the denial they encountered from the Catholic community for seeking to bring a paedophile priest to justice.
'...at times it is beautiful, inspiring and even funny.' - Townsville Bulletin, March 2013
'The case .. (that) ..triggered the Royal Commission into child sex abuse.'
- Herald Sun, March 2013
Purchase paperback now ($24.95 + $7.50 P+P - Australian deliveries only):
ABOUT THE AUTHOR
In his moving introduction to Holy Hell, Detective chief Inspector Peter Fox describes Patricia Feenan as "an extraordinary woman who never gave up the struggle to rescue her family from the terrible abyss of despair created by a paedophile priest."
Patricia Feenan is described as a strong and resilient woman. She has needed to be. Mother of four sons, a grandmother and teacher, she decided to write this story as a testament to her eldest son's courage in giving evidence against a paedophile priest. Raised in a traditional Catholic family, she was totally unprepared for the shock of denial and ostracism by the church community. An advocate for victims of clergy sexual abuse, she is committed to making sure that her family's lonely experience will never be repeated. Her mantra? "He picked the wrong woman's son to abuse!" She also has another life where she loves travel, reading, gardening and quiet times in her home in the Hunter Valley.
In the Media
The Daily Telegraph 2nd February 2013
HOLDING Caesars will aloft. Mark Antony warned the people. "It will inflame you. it will make you mad.' Patricia Feenan's account of paedophliia perpetrated against her eldest son will have the same effect on many readers. Not that there is anything histrionic about her writing. It is heartfelt but gentle, steady. Perhaps she developed this resilience over the 10 years between taking Daniel's abuse to the police and last November, when the prime minister announced a national Royal Commission into the handing of child sexual abuse by institutions. In between, Feenan and her family and supportive friends endured public, graphic revelations of Daniel's experiences; the almost total lack of support from the Catholic church in which they once believed: the strains of coping with unfamiliar court procedures and family breakdowns.
Doubtlessly Feenan's resilience and belief in justice were motivating her when she laid charges against Father James Fletcher. Those of us not personally touched by the abhorrent crime of paedophilia can properly understand its impact only when we are taken behind the headlines. Holy Hell shares the sorrow and scars on victims and their families and even on perpetrators' families. It doesn't explain why children succumb silently to abuse, except to note that paedophilia is "aligned to power and not to physical strength". Daniel Feenan's courage has been a major step towards curtailing that power.
VERDICT: A TRIUMPH OVER ADVERSITY: INSPIRATIONAL - Barbara Baker
Madison Magazine, March 2013: Read here.
Broadcast: 8th November 2012 Studio interview with Senior NSW Detective Peter Fox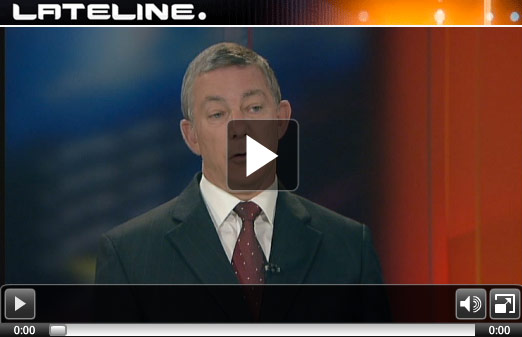 Detective Chief Inspector Peter Fox, a 30-year veteran with the NSW police force, alleges a cover-up by the Catholic church into child sexual abuse and is calling for a Royal Commission. Read full transcript here.
ABC Radio National: Tuesday 13 November
CNN - Monica Attard: Victims welcome Australian child sex abuse investigation
Maitland Mercury: HOLY HELL: A Catholic family's story of faith, betrayal and pain
ABC Radio: Conversations with Richard Fidler